We shall never know exactly what happened that late May afternoon in rural Cambridgeshire. The official investigation was inconclusive; the accident could have been due to a mechanical malfunction with the aircraft, or it could have been pilot error – most probably the latter. A number of regulations had been breached but this was largely glossed over; what good would it have served to look further? Another wrecked aircraft, another dead pilot, another 'training' accident, another statistic; time moved on. The world was at war and, although few knew it at the time, was just a few days away from the greatest invasion in military history – D Day.
The pilot, I shall call him 'Tom', but this is not his real name, joined the US Army Air Force prior to Pearl Harbour and trained as a fighter pilot. He saw action in the Pacific theatre before being assigned to the 10thReconnaissance Group out of Key Field, Mississippi. His role was high-level photo reconnaissance flying P38 Lockheed Lightnings.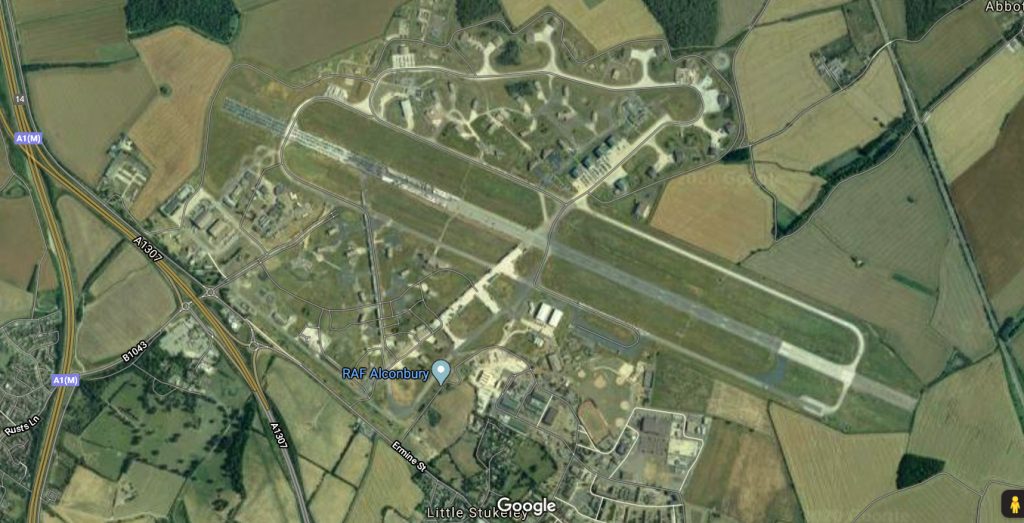 In January 1944 the group transferred to the European theatre and were based at Station 465 at Chalgrove in Oxfordshire, England. Their mission was to carry out essential photo reconnaissance of key locations in northern France ahead of the coming invasion. This entailed a fast, low-level approach to avoid detection before climbing steeply to mission level, taking photographs on a number of passes before diving back to near-ground-level for the return flight. This was dangerous work requiring immense skill and concentration. The aircraft were stripped of all non-essential equipment, including guns and ammunition, to maximise their speed and manoeuvrability.
In late May 1944, Tom's aircraft was grounded at Chalgrove for maintenance work on its gyrocompasses. Upon completion of the work, Tom was given 'permission' to conduct a test flight. This was somewhat unusual as compass testing could be done on the ground. Also unusually, Tom was given 'permission' to land at Station 102 at Alconbury, some 70 miles north-east of Chalgrove. It was no coincidence that Tom's best buddy was attached to the Heavy Bomber Group stationed there. The flight and landing were uneventful, as was the short but convivial lunch with his buddy. Early in the afternoon Tom took off for the flight back to Chalgrove. Immediately upon crossing the airfield perimeter Tom pulled his P-38 into a steep climb and then rolled out into an even steeper dive. Was this the legitimate practicing of key pilot skills, or was it show-boating for his buddy? We'll never know.
The aircraft never recovered from the dive and crashed into farmland about a quarter of a mile east of the airfield, killing Tom instantly. He was aged just 25 and had been married less than a year. He died not knowing that his wife was expecting their first child.
The Son
Tom's son was born in October 1944. I shall call him 'Jack', also not his real name. Tom's widow remarried and Jack took his stepfather's name – 'it was easier that way'. His childhood was as ordinary as any American kid's during that time. His mother was happy in her new life and Jack 's stepfather loved him as if he was his own. Jack always knew that his biological father had been killed during the war but, by his own admission, was largely incurious.
It was only after his mother's death in the late 1990s that he began to take an active interest in his father. He found a number of documents amongst his mother's effects that prompted his research and, eventually, the uncovering of the story told above. Jack promised himself that he would, one day, visit England and his father's grave.
As is often the case, such promises are easily made but much harder to keep; so it proved for Jack. Twenty years passed, and age and ill-health caught up with him. Summer 2019 was almost certainly his last chance to make the trip.
The Tour
Hi, I'm Geoff and I've been working with British Tours as a driver-guide for over eight years. One Sunday morning in early September 2019, I was contacted by British Tours and asked if I could put together an itinerary for a one-day tour to RAF Chalgrove, RAF Alconbury and the American Military Cemetery in Cambridge (most USAAF stations reverted to the Royal Air Force at the conclusion of WWII). Despite less than 48 hours' notice, I accepted the assignment. I managed to squeeze in a reconnaissance trip to Chalgrove and Alconbury the following day; I was already familiar with the cemetery at Cambridge. At this point I knew only that the clients had a family connection with the locations.
At 8am the following day I met Jack and his wife in the lobby of their central London hotel. It was clear, even to my untrained eye, that Jack was not a well man and had significant mobility issues that would need careful managing. Our schedule was tight, so we set out on the road to Chalgrove. During the hour drive, Jack told me the story of the life and death of his father. He explained that this was his only opportunity to stand at the grave of a man he had never met, a man who had died not knowing that he even existed, a man who was his father.
September in England can bring glorious weather with endless blue skies and sunshine. This wasn't one of those days. The grey mist that escorted us out of London turned to thick fog by the time we reached Chalgrove. The airfield was returned to civilian use after the war and has been used by the Martin-Baker ejection seat manufacturers since 1946. I explained the purpose of our visit at the front gate security office and they kindly allowed us onto the airfield as far as the perimeter road. We could make out little in the gloom but at least Jack was able to spend a few minutes in his father's footprints.
By the time we arrived at Alconbury the weather had improved significantly. Military flying stopped at Alconbury about twelve years ago, but US forces maintain a small presence there in the form of the 423rdAir Base Group. The remaining facilities are currently used by civilian businesses. Much of the southern side of the airfield has recently been developed for housing, in the middle of which the original WWII control tower has been preserved. A weak sun was just breaking through as Jack observed that the last voice his father ever heard emanated from that building.
Jack had a facsimile copy of the official report into his father's death. From the description of the aircraft's final movements I was able to identify an area of farmland to the east of the main runway where Tom met his end. As we gazed across the recently harvested wheat stubble a shaft of sunlight broke through the thinning cloud, illuminating a patch of ground a few hundred yards from us. Jack stared at it but said nothing.
We broke for lunch at the Lion pub in nearby Buckden and then headed towards Cambridge. Incidentally, Buckden Towers is the 15thcentury home of the Bishops of Lincoln. In the 1530s it was where Catherine of Aragon, the first wife of Henry VIII, was held under house arrest. But that is history for another day.
Cambridge American Cemetery is the only permanent US military cemetery in the United Kingdom. It was dedicated in 1956 on land gifted to the American people by the University of Cambridge. Along with thousands of others, Tom's body was relocated here soon after.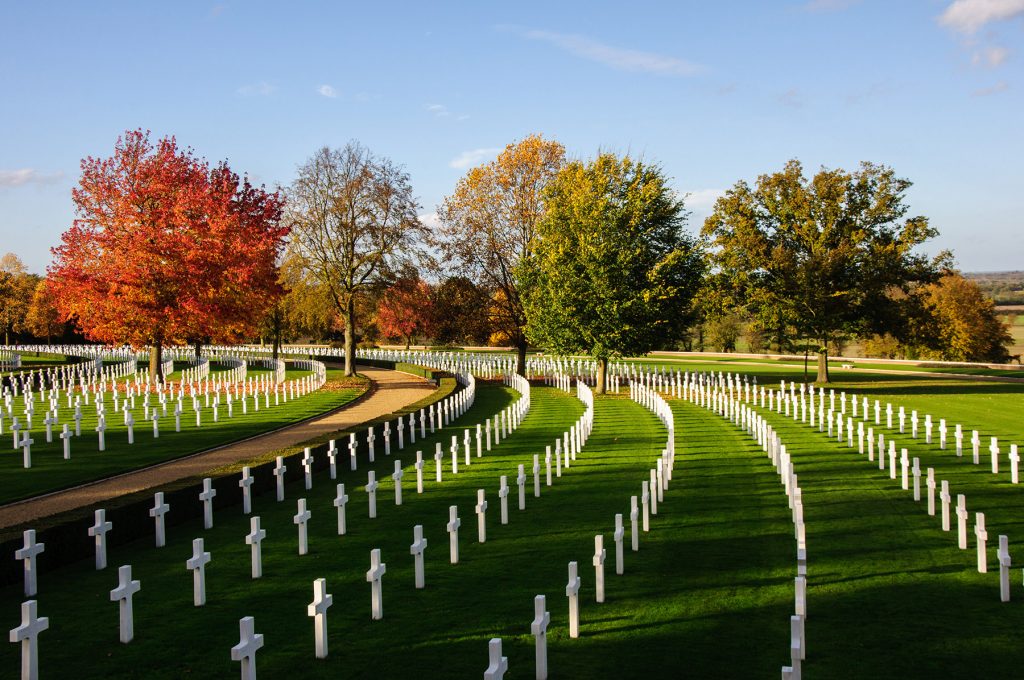 I had contacted the American Battle Monuments Commission the day before our visit and arranged that we be met by a member of staff and escorted to Tom's grave. It was a fortuitous coincidence that, when I introduced Jack and his wife to the on-duty staff member, the Assistant Superintendent was standing nearby and heard Jack's story. Matthew P. Brown was a recently retired Colonel from the US Air Force who had flown combat missions in the second Gulf War. He immediately took it upon himself to personally conduct us on a tour of the cemetery. Jack rode 'up front' in the golf buggy as we drove round but was very subdued. Matthew gave us details of the recovery of Tom's body and its initial burial in a temporary site before its transfer to Cambridge. As we arrived at the graveside the sound of a solitary bugler came over the loud-speaker system, playing 'The Last Post'.
Through his tears, Jack said just two words: "My Daddy."
Visit an airbase on a private WW2 Airfield Tour with your expert British Tours Tour Guide
Post by Geoff, British Tours Tour Guide
Caption Lockheed P-38_Lightning - credit: Wikipedia, Public Domain