A nice crisp January day and it's off to the City of Norwich, about 115 miles north east of London and, in the past, second largest city in the country. I'm letting the train take the strain - a brand-new, fresh-out-of-the-box train it is - leaving London Liverpool Street spot on time at 10:00 and arriving early at Norwich.
Norwich is in East Anglia - that's the bit that bulges out on the lower east side of the UK. Now East Anglia has a reputation for being a fairly flat area, but in fact it's largely composed of gently rolling countryside - and very attractive it is too, punctuated with little villages and church spires and the occasional maltings (buildings used for drying cereals to create malt for brewing).
My objective was visiting Norwich Cathedral, which is about 15 minutes walk from the station and, although well signposted, it's rather difficult to miss the spire rising above the city.
The Cathedral has a high proportion of Norman architecture - a potent statement of cultural dominance following the C11 Norman invasion - illustrated by towering, semi-circular arches with characteristic dog-tooth patterning and stout, squat columns. There's also plenty of gothic features as well and some medieval painted ceilings.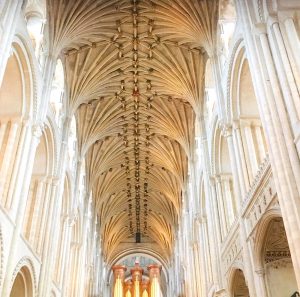 I have to declare an interest at this point. I particularly wanted to see some metal gates in the Cathedral, fashioned in the 1950s by a local master blacksmith. So, a discreet enquiry to one of the Cathedral volunteers produced the response "they're by Eric Stevenson.." That was enough for me, since I happen to be Eric's great nephew. With that, mission accomplished, it's off to explore the rest of the city…
I decided that I rather liked Norwich. Although the Normans also built another, uncompromising demonstration of their might over the indigenous Anglo-Saxons, their castle (which sits on a steep mound above the market area), the city is a catalogue of architectural styles - timber framed Tudor, early C17 Jacobean and Georgian buildings abound.
Norwich is also a bit of a hilly city - nothing strenuous - but it means winding cobbled lanes where you find stone archways, flintwork walls and plenty of pubs. And it's a relatively quiet city; not at all like many of the traditional tourist destinations. So, if you want an antidote to the dynamism of London without the crowds and the lines…this should be bit of a heads-up.
Norwich Cathedral is open daily, 07:30 - 18:00. There's no admission, but donations are recommended.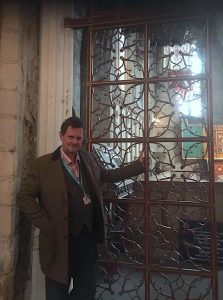 I can also let my great uncle tell you about his work as a master blacksmith. He's in a short film by the British Film Institute called The Blacksmith (1977, location - Wroxham) at player.bfi.org.uk
Post by Mark, British Tours Tour Guide
Take a tour of the stunning Norfolk countryside and visit this incredible treasure on a British Tours custom made tour