Now that fall's arrived, I decided to let someone else do the driving and to take myself off to Aberystwyth on the Welsh coast, to travel on the Vale of Rheidol (VoR) Railroad. This is one of a number of narrow gauge steam railroads to be found in North Wales, collectively marketed as the "great little trains of Wales".
Although today these railroads are tourist attractions, originally their purpose was the transportation of materials - slate and, in the case of the VoR, lead, from the mountains 12 miles to the coast at Aberystwyth.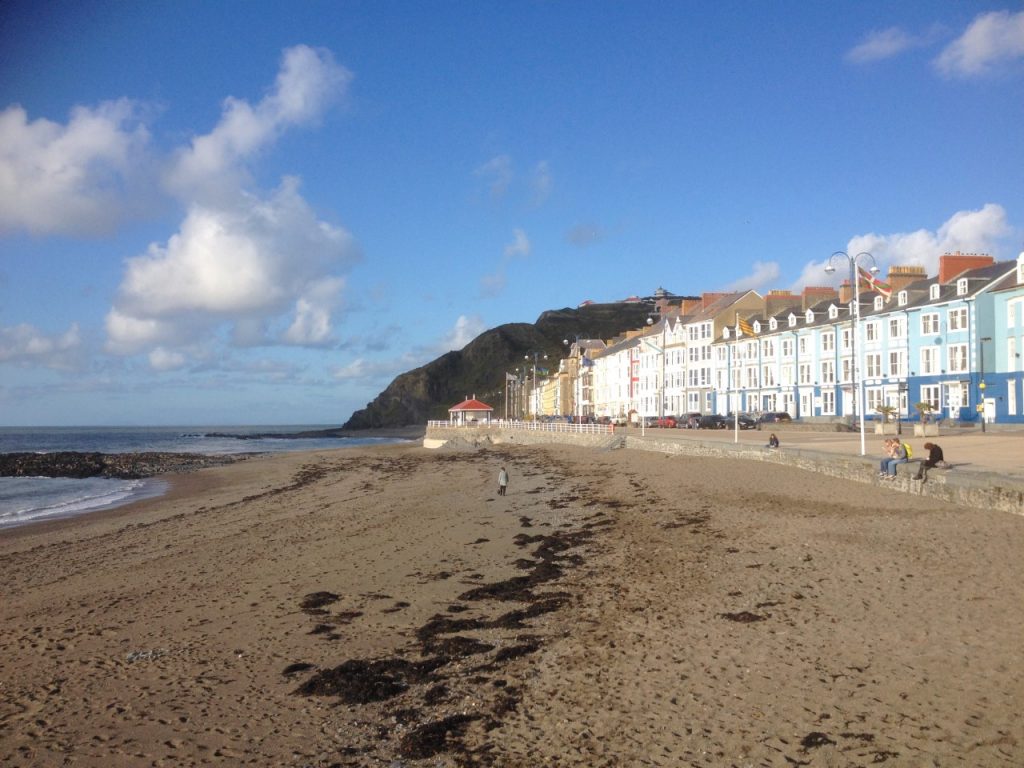 Operating between late March and early November, on the day of my visit, two return trips were offered, departing from Aberystwyth at 10:30 and 2:00. Journey time is an hour each way, with an hour between trips at Devil's Bridge (elev. 700 ft).
Devil's Bridge (welsh: Pontarfynach) itself is about 200 yards from the station and is actually three bridges and some remarkable waterfalls. The oldest and lowest bridge is the one supposedly built by the Devil and dates from the 11th Century, actually built by monks to ease their journey to a local abbey.
Shortly after leaving the predominantly Victorian town of Aberystwyth, the railroad passes through farmland - mainly pasture for dairy cattle, all very lush due to the higher precipitation along the UK's western coast. Before long, the gradient increases and with it the scenery too, as the pasture gives way to woodland, occupied by rather skittish sheep, which dart away each time the locomotive whistles.
As the railroad continues to ascend along the valley of the Afon (welsh: River) Rheidol the scenery becomes even more impressive. Particularly noticeable was the stunning variety of green hues as the lowland trees, beech, birch and oak give way to ash and fir.
Forging further inland, the glacial lowlands towards the coast become a series of interlocking spurs. Our little engine and its four carriages were now hugging the precipitous slopes on tight curves, leaving a contour of steam behind, passing within inches of steeply folded rocky outcrops on both sides of the tracks.
Due to the damp conditions during my journey (north Wales doesn't have rain, it has "mountain mist"), clouds had been embraced in some of the valleys below, enhancing the reputation of Wales as a land of myth. No dragons to be seen, but on occasions, red kites could be observed below, circling on the thermals looking for prey.
This was a truly enjoyable few hours, impressive scenery, geological features and a steam railway. Even the mountain mist enhanced the experience.
Although Wales benefits from domestic tourism, relatively few visitors from overseas, choose Wales as a destination.  Which is a shame.  The culture is unique and the welsh have their own language.  Particularly in North Wales, scenery is spectacular.  And, incidentally, the tallest peak, Mt Snowdon (3560 ft), has it's own rack railway, steam operated of course, right to the summit.
Post by Mark, British Tours Tour Guide